How Can Faux Locs Help in Improving Your Entire Outlook
Our hair is one of the most important parts of our overall appearance. Where men can rock a solid bald look, women tend to prefer hair on their heads. We live in a fast moving world where styles and fashion change faster than the speed of light. So how can you stay up to date with the fast moving fashion world when your hair can grow fast or style in a certain way? Well, in come the faux locs.
What Are Faux Locs?
Faux locs make for a great style statement. They are everything these days, and people love them. They can be done by braiding the natural hair and then wrapping some of the additional natural hair around the stem of the braid. They act as sort of a permanent extension to your natural hair.
Can Faux Locs Really Help You Improve Your Outlook
Well, to answer the above question in one word, we can say YES! The faux locs can do wonders for your appearance. Let's take a look at how faux locs can help improve your appearance.
Color: Don't Worry About Dying Your Hair
Have you ever wanted to try different hair colors for different occasions, but you are just scared of using hair dyes? Well, faux locs are the answer to that. Even with the advancement in technology, the hair color you find in the market these days has certain chemicals in them. These chemicals can damage your natural hair in different ways. They can make your hair rough, damage the texture, damage the roots and scalp, and cause other hair related problems. However, if you use faux locs, you can dye the locs while keeping the natural color of your hair. The best part about this is that you can try different colors on different days without having to worry about damaging your hair.
Length Is Not a Problem
It is totally natural to try a new look for every event you go to. Nobody wants to go with the same style and hairdo. It looks bland and boring. The length is an essential factor in how you style your hair. You can only style your hair according to its length. But what if you want a particular design that requires you to have long hair? Imagine a bride who has small hair but always dreamt of having long hair at her wedding. She wants her wedding day to be perfect and exactly how she always dreamed it to be. So how can she have a hairstyle that can only be supported by longer hair? Well, the answer is, again, faux locs. You can attach the faux locs with your natural hair, thus increasing the length of your hair. The best part about faux locs is that they look natural and act as a permanent extension to your natural hair.
Style: Style Your Hair in Whatever Way You Want
Whether you are looking for a spring twist hairstyle, crochet twist braids, or any other type of hairstyle, you can get it done with faux locs. With faux locs, the possibilities are endless. You can style your hair as you like. You don't have to worry about having the same style on different occasions. Now you can style your hair differently for different events. You don't have to worry about having short hair, or the texture of your natural hair does not resonate with the style you are after. Using faux locs, you can style your hair exactly the way you want. This is because of the fact that our faux locs are made with heat resistant fiber.  If you have never used faux locs before, then using them would definitely be a relief to you. You would feel that all your styling efforts have paid off.
Volume: Faux Locs Give More Volume to Your Hair
No matter your hair density or texture, no matter if your hair is thick or thin, you can still use faux locs to give more volume to your hair. Hair with more volume looks great and lets you enjoy a more beautiful overall appearance.
Where Can You Get The Best Faux Locs?
As you can see, faux locs can do wonders for your hair and overall appearance. So if you have never tried them, now is the time to do so. But where can you get durable and high quality faux locs? The answer to that is https://wigmfg.com/. If you are someone who is looking for faux locs and hair extensions, then you might have come across many different websites that sell similar items. However, it is very important to choose a brand that offers durable, high quality, and natural looking products. Go for locs and extensions made with heat resistant fiber.
How Is Wigmfg.com Better than Other Sellers
Wigmfg.com takes pride in offering superior customer service. The brand offers high quality premium products that are highly durable and long lasting. Our products are made with natural human hair from all over the world and the best thing about our products is that it is made with heat resistant fiber, which means that you can use hot water (175F) and easily restyle you hair as you want.
This means that if you purchase and use our products, they would give you a natural look. No one would be able to distinguish between the hair extensions, faux locs, and your own natural hair. So if you want a fantastic and natural hairstyle with endless possibilities, then you should definitely check out wigmfg.com.
We offer a range of different hair related products in our store, so you are bound to find something that you need. One of our premium products is Click to Buy Spring Twist Hair
(6 Packs Crochet Real Gypsy Locs)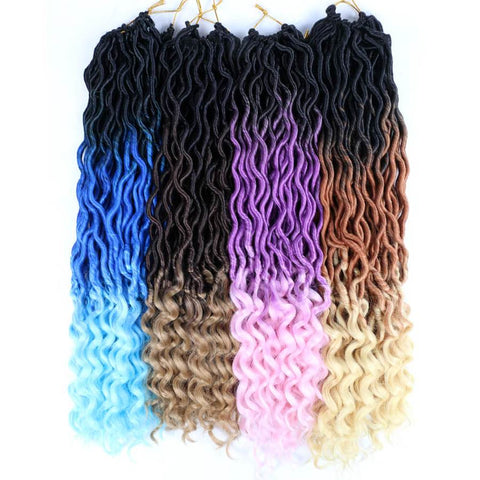 (6 Packs 18 inch Curly Faux Locs )
which is a type of faux locs braid. We offer a range of different colors for our spring twist hair. Not many brands in the market can boast as extensive range as ours.
Whether you are looking for wigs, faux locs, hair extensions, volume hair bundles, hair wigs for cosplay, or even accessories related to the above mentioned hair products, you can find them all at Wigmfg.com.